Breeding ewes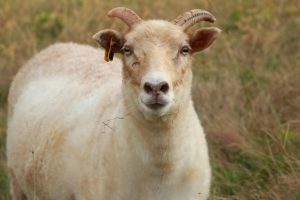 Rue II, aka Tilty Head, aka Mamma. Rue II was born in 2016 from Rue, an Icelandic ewe from Farmgirl Arts farm and the ram lamb out of Lambchop and Vaengur. Her lambs in 2019 were a girl and a boy - both white.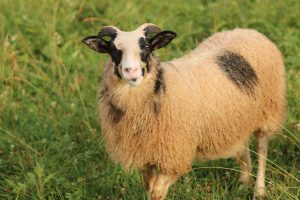 Spot was born April 11, 2018 from Rue II and Tripp, from Winding Stair Farm. Her lambs in 2020 are both boys - white and quite identical so far! - born on April 8th.
Shadow is Spot's sissy - born April 11, 2018 from Rue II and Tripp, from Winding Stair Farm.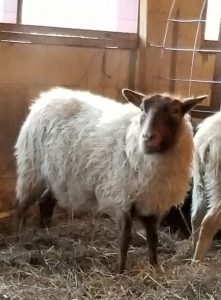 Bunny was born March 24, 2018 from Matvraket and Tripp, from Winding Stair Farm. She was one of triplets and has been both spunky and adorable from the moment she hit the ground. Her lamb in 2020 was a single girl from Trygve born on March 25th.
Herd sire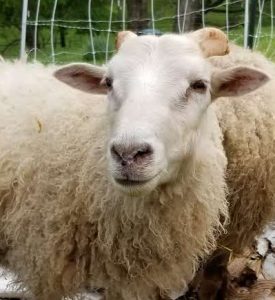 Our herd ram is Trygve, born in 2019 from Molly, who came to us from Winding Stair Farm and Huckleberry originally from Kind Horn farm in Vermont and now residing at Winding Stair Farm. Trygve's sire (Ktb-145F) is morrit grey, from Kimu (very large, big udder, raises really big twins every year) and AI son of Grabotni. Ktb-145F was described by Kind Horn farm as "really well conformed with long and deep body, very good legs and feet, nice muscling on back, horns look like good spread presently."
In memory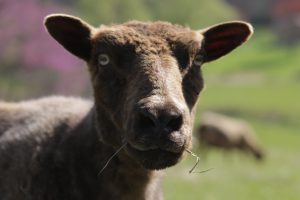 The matriarch, aka Lambchop, aka Matvraket, aka Mamma.

We bought the matriarch of our flock in 2013 from a very nice lady north of Asheville who wasn't sure if she was Icelandic, a large Shetland, or a cross. She was likely born in 2011 or before. She's loud, demanding, in charge and makes awesome babies. In 2018, she successfully raised a set of whopping triplets.

Sadly, we lost her in the fall of 2019. She is sorely missed.