Measurements:
21 inches across under the arms. 21 inches from bottom to top of turtleneck. (Hey! It's square!)
19 ½ inches from cuff to undearm.
Yarn:
Brown Sheep Co's Lamb's Pride Worsted (85% wool, 15% mohair)
Color M-181 Prairie Fire
I believe this sweater took a little less than 4 skeins that were 4 oz (113g) each.
Materials:
Double point and 16″ or 24″ circular needles; I can't remember what size needles I used, but you should use whatever needles it takes to get the following gauge…
Gauge:
7 sts and 10 1/2 rows = 2 inches
Notes:
The yarn label gives an average gauge of 4 1/2 stitches per inch, but I prefer the way it came out at 3 1/2 stitches per inch.
Also, I started the arm to find out what gauge I was knitting at in order to calculate how many sts to cast on for the body. I prefer to do that rather than a swatch, since it's in the round and if it's right, you've started on the sleeve anyway.)
This sweater was knit in the round throughout.
Sleeves: CO 34 sts. Join and purl 1 rnd, then k 3 rounds, p 2 rnds, k 3 rnds, p 2 rnds for the "cuff."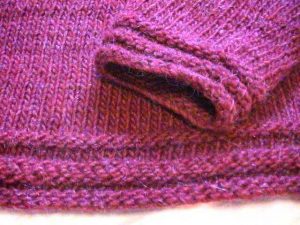 Mark the stitch you want for the underarm seam line and increase 1 stitch on each side of this stitch. (I used the "make a backwards loop" increase.)
Continue in stockingette stitch (k each rnd), changing to circular needles when work is large enough to fit onto circulars, increasing 1 st. each side of center stitch every (approx.) 1 ¼ inch 10 more times for a total of 11 increase rounds until arm measures 19 ½ inches.
Place 10 stitches (4 before the marked stitch, the marked stitch and 5 after) on contrasting colored yarn or stitch holder for the underarm. This leaves 46 stitches on the needle at the top of the arm. (34 cast on sts + 22 increases= 56 – 10 underarm sts = 46)
Make the other arm. ;O)
Body: CO 156 stitches. Join and work bottom of sweater as for sleeve cuffs (P1 rnd, k3 rnds, p2 rnds, k3 rnds, p 2 rnds).
Continue in stockingette stitch until body measures 11 inches. This made the sweater just the length I wanted it to be (just a tad bit longer than the tops of jeans) but you can of course make it any length you want.
Put 10 stitches on each side on contrasting colored yarn for the underarms. This leaves 68 stitches on the needle for the front and the back. (156 -20 underarm sts = 136 divided by 2 = 68).
Join these body sts on one large circular needle with the arm sts, matching up underarm sts and knit one round, marking the 4 spots where arms and body meet.
Mark one of these spots as the beginning of your round (which will make it the right hand back side of the sweater.) Now, starting at that beginning round marker:
k 2, p1, ssk, k to 5 stitches before the next marker (R front), k2 together, p1, k4, p1, ssk, k to 5 sts before the L front marker, k 2 tog, p1, k4, p1, ssk, k to 5 sts before the L back marker, k2 tog, p1, k4, p1, ssk, k to 5 sts before the beginning of the round marker and k2 tog, p1, k2.
You have just set yourself up for the cable stitches (the 4 knit sts between 2 purl sts) and your decrease line. Yea! Notice, however, you'll need to move the marker marking the beginning of the round to before the cable or otherwise mark this spot with a safety pin or similar so you'll know where to start, but still be able to cable the stitches at that point.
Knit one round without decreasing around on all stitches, but keep purling the purl stitches. On the next row you will be decreasing on the two stitches before and after the purl sts and cabling the 4 stitches inside the purl sts, then thereafter decreasing every other round and cabling every 4th round, as follows:
1. k2 tog, p1, sl next 2 sts to dpn and hold in back, k2, then k2 from dpn (= Back Cross), p1, ssk, work to 2 stitches before next purl st, k2 tog, p1, sl next 2 sts to dpn and hold in front, k 2 then k2 from dpn (=Front Cross), p1, ssk * Repeat from * to get back around to your starting point.
2. k 1 rnd plain with no decreases
3. k 1 rnd with decreases but no cables
4. k 1 rnd plain with no decreases
repeat rounds 1 – 4 until there are only 10 sts left of the arm stitches between the decreases, then shape neck back. (This neck back shaping is based on Elizabeth Zimmerman's Knitting without Tears for the Seamless Raglan Sweater) :
Set 15 center stitches for the neck front on spare contrasting color yarn. Knit back and forth in pattern, knitting on the "right" side of the work, purling on the "wrong" side, and continuing to cable every 4th round and decrease every 2nd as you have been until you have only 1 stitch between the purl stitches on the sleeves.
Now, knit around one time, picking up stitches (I think it was about 5) at the sides of the front neck stitches and re-joining the 15 front neck stitches. Then count your stitches and be ready to decrease a few here and there evenly spaced around to get 66 stitches for the turtle neck.
Then continue in k3, p3 rib for 2 inches on these 66 sts, then change to all k stitches for 6 rounds (to make a little rolling edge at the top) and bind off loosely. Graft underarm sts together and….
Voila!